Key Takeaways
Brazilian butt-lift (BBL) was the most searched augmentation in 2022, with over 4.4 million searches.
Based on 2022 search volume trends by month, ab implants, hair transplants, and lip flips are projected to have the greatest search volume increase in 2023.
Lip flips had the largest increase in search volume since 2018, with searches increasing upwards of 24,300%.
Massachusetts, Connecticut, and New Jersey were the top three states searching for ab implants.
Searches for penile enhancements, BBLs, and forehead reductions were highest in Atlanta.
Impossible Beauty Standards
Positive body image is difficult to maintain in a Photoshopped world. From magazine spreads to social media, we're surrounded by false images of beauty that can only be obtained through digital manipulation. To make matters worse, many of us spent the past few years logged into video conferences where we had to stare at our poorly-lit faces at unflattering angles for hours.
The inevitable self-scrutiny of the Zoom office, coupled with the Photoshopped and filtered "perfection" of the media, has led to a surprising rise in the demand for plastic surgery. From age-reducing face-lifts to celebrity-inspired butt-lifts, people are flocking to surgeons to reshape their every curve.
The Bulimia Project wanted to take a closer look at the plastic surgery trend to find out where interest in body augmentation is the highest. We collected U.S. Google Trends search data from 2018-2022 for each of the 50 states and the 50 most populated cities. Which procedures are the most popular and the fastest trending? In which states and cities are the most people searching to modify their bodies?
Top Augmentation Searches in the U.S.
While the rational side of our brain knows the edited and filtered images on our screens are full of false ideals, the impressionable, our self-conscious side can have a hard time fending off comparison. Bombarded by images of full lips, smooth skin, six-pack abs, and impossibly ample rears, Americans have flooded Google with plastic surgery searches. Which procedures do they search for the most, and which search trends are the fastest growing?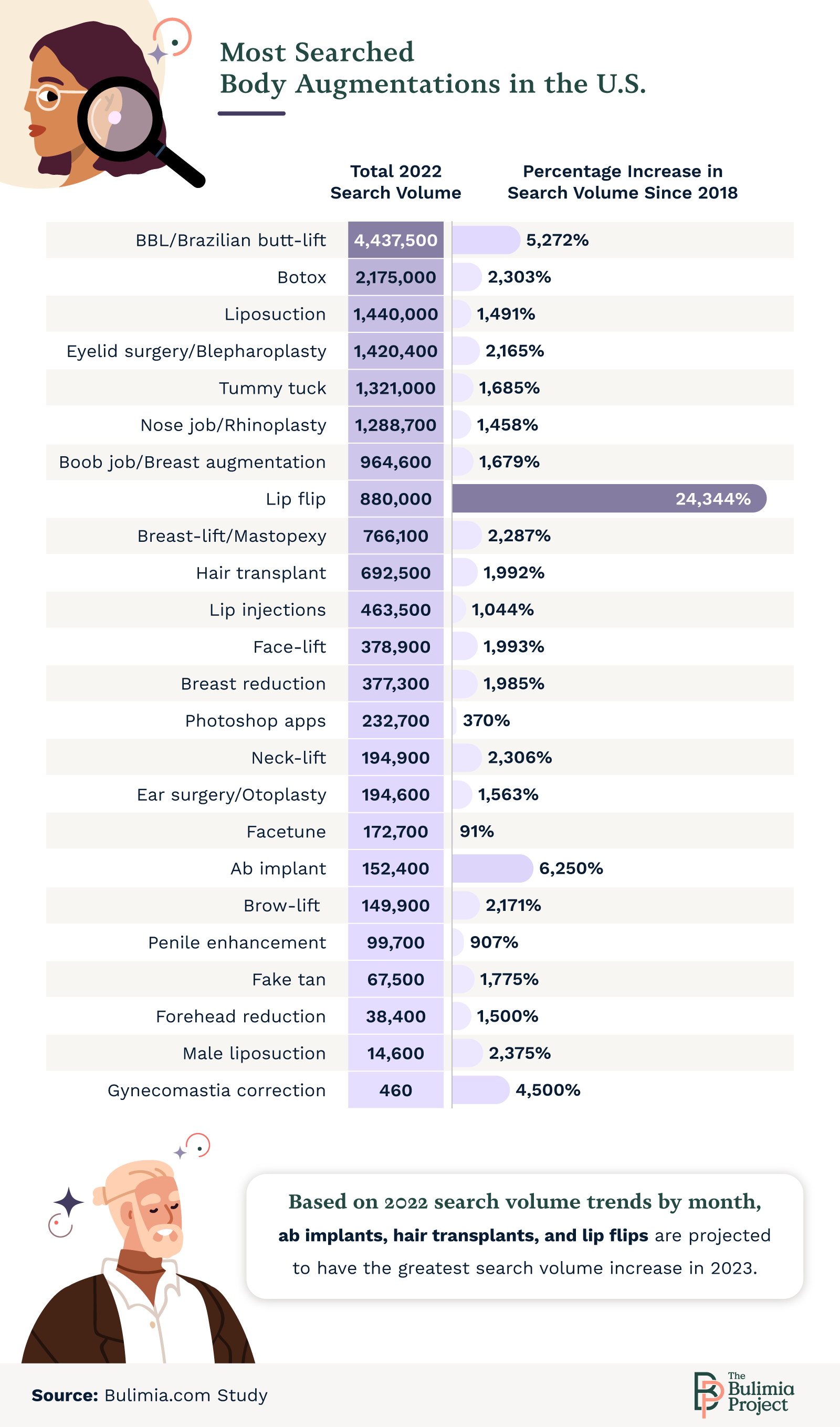 Inspired by the ever-present Kardashian family, the Brazilian butt-lift (BBL) was the most searched-for body augmentation. BBL had over 4.4 million searches in 2022, an increase of over 5,000% since 2018.
The BBL has been around since the 1960s but was more recently popularized in 2015 by Kim Kardashian. The procedure's popularity has since skyrocketed, with the help of other celebrities (like Nicki Minaj and Cardi B) and social media influencers. But the BBL is one of the most dangerous plastic surgery procedures, with a high risk of complication, infection, and even death. The recovery is long, intense, and painful even when the procedure goes smoothly. Many women now regret having a BBL, and even Kim Kardashian stopped "topping off" hers to let her posterior slowly reassume its natural size and shape.
Ranking second to the BBL, Botox continues to be one of the most popular plastic surgery procedures, with over 2.1 million searches in 2022. Known for diminishing the look of wrinkles and fine lines, Botox has become increasingly popular with 20-somethings who use "preventative" Botox to try to avoid getting wrinkles in the first place.
Another Botox-based procedure, the lip flip is the fastest-growing trend in plastic surgery; searches for it have increased an astounding 24,344% since 2018. This lip augmentation creates an exaggerated pout that was previously only attainable through lip fillers. TikTok has fueled the lip flip's popularity with influencers posting full procedures and before and after videos touting their perfectly pouty (but numb) upper lips. However, achieving pouty lips isn't always straightforward, and many have to additionally use lip fillers to get the look they want.
Top Augmentation Searches by State
While social media reaches every corner of the nation, certain areas seem more vulnerable than others to the pressure to keep up with impossible beauty standards. Which states search for the most body augmentation procedures, and where are individual procedures most popular?

Surprisingly, California has only the second-highest number of searches for body augmentation procedures. New York claimed the No. 1 spot, making the top five list for 18 different procedures. Most of their procedure-related searches were for BBL, eyelid surgery, hair transplants, and the Facetune app.
California made the top five list for 14 different procedures, earning the No. 1 rank for brow-lift, face-lift, and nose job searches. All three procedures are often associated with celebrities, especially actors, so California's top ranking makes sense. That said, many celebrities are starting to speak out against plastic surgery, especially women who are resisting the pressure to undergo anti-aging procedures.
Massachusetts, Georgia, Utah, and Florida were other states with a high volume of body augmentation searches. Even Alaska participated in the plastic surgery craze, topping the search list for male liposuction and making the top five for gynecomastia reduction.
Top Augmentation Searches by City
New York and California topped state searches for body augmentation procedures, but we wanted to delve deeper into the search trends. Which metropolitan cities have the most searches for which procedures?

Despite their states doing the most searches, New York City and Los Angeles weren't among the top five cities searching for any procedure. San Francisco and San Jose were the only California cities to make any list, and not a single city in New York made one. So which cities did?
Miami, dubbed the U.S. capital of plastic surgery, claimed the No. 1 spot in 20 of 24 procedure searches and came in second or third in the remaining four searches. With a high concentration of plastic surgeons, Miami is a hotbed for nose jobs, face lifts, breast augmentations, BBLs, tummy tucks, liposuction, and "Mommy makeovers." However, a lack of regulation there has allowed plastic surgery chop shops to advertise "quick, low-cost" procedures nationally to gain more clientele.
Atlanta is another city where many residents have searched online for plastic surgery. The city took the No. 1 or No. 2 spot for every procedure search and claimed the top spot for BBL, forehead reduction, lip flip, and penile enhancement. Meanwhile, Minneapolis also did a lot of body augmentation procedure searches, ranking in the top five for 21 procedures and beating Miami for the second-most lip flip searches.
Fake It To Make It
No matter where you live, it's impossible to escape the filtered, Photoshopped beauty of the media. Social media is especially notorious for promoting cropped, altered, and edited images of unattainable beauty. Being bombarded by such images, people have turned to plastic surgery in record numbers. The allure has captivated every corner of the country, from New York to California and all the way up to Alaska. But is surgical augmentation the cure for our beauty obsession?
It may be too much to hope for, but perhaps one day, we can move beyond the knife, shed these beauty standards, and appreciate our bodies as they are. Maybe then we'll stop comparing ourselves to anyone else and find true self-love.
Methodology
For this study, we collected Google Trends search data from 2018-2022 across the United States, including each of the 50 states and the 50 most populous cities.
About The Bulimia Project
The Bulimia Project is a resource dedicated to providing information to men and women suffering from bulimia nervosa and co-occurring eating disorders, mental health, or substance use disorders.